Location:

Just 2 minutes to Highway 101's Masten Ave On-Ramp,

yet no freeway or traffic noise whatsoever!

In fact, this is as quiet as if you were in the hills!

Just 20 minutes south of San Jose!

At the corner of Rucker and Center (Corner lot, side access).

2 Driveways:

The most interesting part of this property is the 2nd driveway which loops around to the rear where there exists a huge paved parking area (could easily park 20 cars), a fully improved 2,000 SqFt LARGE WORKSHOP (used to be a barn), and a separate RV Canopy Cover which has electricity.

Plus there is still lots of room left over for more improvements and/or a small orchard!

The 2,000 SqFt Workshop (converted from barn in 1997) is fully sheetrocked and includes 3 rooms PLUS extra deep and extra wide 2 car garages each with its own roll-up door. 220 Wiring, Overhead Flouresecent Lights and many more conveniences make this the utlimate layout! The wiring and sheetrock were done to code, according to the owner, but no permit was taken out for these two items. The owner is currently working on the final permit for the barn/workshop, which just requires a site drawing.

Separate RV Canopy Cover with electricity! A-Frame hoist also included!
Single family home and a 2nd home on 1 lot. The Ultimate Level 1.11 Acre Ranch with Workshop/Barn!!!

2,391 Total Square Feet Between the Two Homes

The main house is 3 bedrooms, 2 baths, 1724 SqFt

separate family room, living room, dinining area,

extra deep 2 car attached garage, and a storage room.

The 2nd home is 2 bedroom 1 bath of 678 SqFt which has it's own parking area.

Estimated 1,000/month rental income would leverage $147,000 of the mortgage!

Both homes were extensively added on to and remodeled 1980-1983

on land that has been in the family since 1942!

In the back yard (with south and west exposure), there is a gated inground heated & filtered pool + separate inground spa

each with its own cover, and there's even a small pool house.
History:

The owner's family originally owned the surrounding 15 acres sine 1942.
A complete remodel (and some additions) of both homes and the grounds were completed in 1983-1985.

The 2nd home is attached via a breezeway, and built prior to 1947, which did not require permits at that time. However, the entire property, with all of its additions and remodels, was permitted between 1980-1985, and the workshop in 1997.

The property was upgraded in 1980 as follows: new septic tank and leach line, upgraded well, building permits for the following items, which have all been signed off except the barn/workshop: Added new garage to the main house, 2 new bedrooms and 2 new baths, and a new jumbo shake roof. The remodeling of the main house consisted of: Kitchen, family room, and living room. The entire home was finaled with permits in 1983.

Exterior:

Outdoor Lighting, 2 Large Lawn areas, Outdoor BBQ, Rose Bushes, 4 Plum, Pear, Apricot, Walnut, 3 Pecan, Lemon, Tangerine, Red Flame Grape Vines, and Grapefruit Trees.

Lots of room left over for horses, animals, etc.

5,000 gallon underground well for fire hydrant, attached and pumps to well.

Well: 3 phase 5 Horsepower submersible pump. Less expensive to operate. North side of property is plumbed from well for irrigation pipes and upright valves.

Personal Property:
2 refrigerators, Washer, dryer, 2nd dryer in 2nd house
Table and TV in garage
2 satellite dishes (DirecTV), Built-in Safe
Radial Arm Saw, Work Table in WorkShop.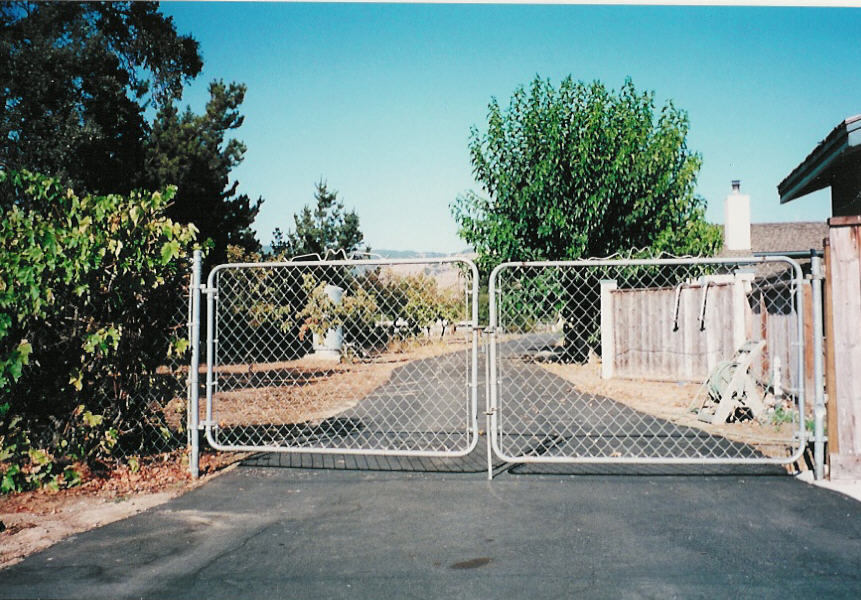 Most Recent Sale in Gilroy: 7595 Princevalle St just closed escrow at $660,000 on 9-7-01.

No 2nd home, no workshop, no pool, no central air, less than 0.5 acre, older home - the list goes on.

This is clear evidence that Center Ave is valued at least $150,000 higher than $660,000!